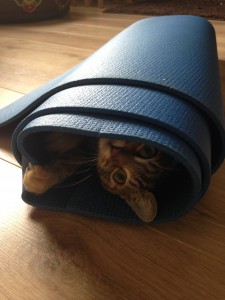 Based in East Cork, my classes and courses contain a blend of Yoga styles and approaches that I call 'Integrity in motion'.
I place emphasis upon mindful, authentic movement and breath.   Being (faith)fully present for ourselves, feeling and accepting our truth.  Using the mat as a mirror to reflect back to us our patterns so that we gain a greater understanding of our bodies, our minds and from this space, of compassionate honesty, empowering choice and liberation to embrace and express our authentic selves on and off the mat
No two groups are the same.  I aim to tailor the blend to suit the specific needs of each group… inviting you out of your comfort zone… whilst honouring your boundaries to optimise the benefits.
Classes are not to graded (beginners/advanced etc) and focus on empowering you to listen to your own body and make informed, wise decisions about what you need by giving options to take the practice more deeply or more gently throughout each class.
In fact, listening to your own body is my only rule for attendance to my classes.  Your body will not lie to you.  It's a bonus if you can also bring an open mind and a sense of fun 😉
In addition to Asana – the physical part of the practice, most of classes usually include some pranayama (yoga breathing), stillness/meditation and relaxation.  We also make sure that at least one class includes Yoga Nidra (deep relaxation) depending on the needs and wishes of the group. 
Individual sessions Private Groups / Workshops
I am always delighted to design sessions to meet the needs of individuals or groups. I have a particular expertise and interest in working with Autistic Adults.   Do get in touch to discuss your needs
Faithfully Me x
+353 (0)86 669 8588
FaceBook:  Faithfully Alison